2022 HUMMER EV TRUCK IN 100 Mile House, BC

2022 Hummer EV Truck in 100 Mile House, BC
The all-new 2022 Hummer EV Truck is a highly-anticipated model that is releasing under the GMC brand. The Hummer EV Truck comes equipped with various features that will make it unique to the automotive industry.
Complementing its powerful all-electric powertrain are features like its completely removable roof that make it unique. There are four trim levels to the lineup of Hummer EV Truck models, with one trim being offered for the 2022 model year only.
Extreme Off-Road Capability
One of the most notable features of the new 2022 Hummer EV truck is its four-wheel steering system, which allows it to "crab" walk. Through its Crab Walk feature, all four wheels of the Hummer EV Truck can be rotated entirely sideways, allowing the truck to navigate easily out of tough situations. Crab Walk is a feature that is model-specific to the 2022 Hummer EV models.
The 2022 Hummer EV Truck will be able to power through rugged terrain using its tri-electric motor setup. The electric motors of the truck produce a total of 746 kilowatts and 15,592 Newton-metres of torque. The new Hummer EV Truck is equipped with an all-wheel-drive drivetrain at every trim level.
2022 Hummer EV Truck - Exterior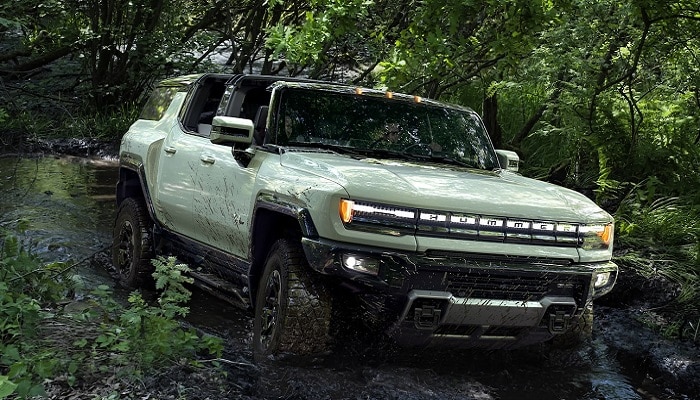 2022 Hummer EV Truck - Interior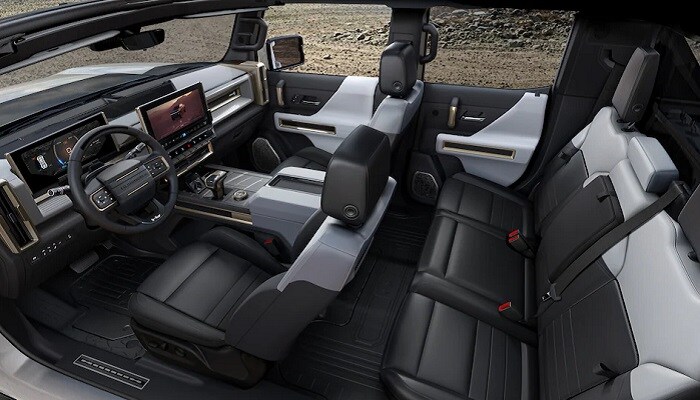 Interior and Exterior
The new Hummer EV Truck has a crew-cab design. The 2022 Hummer EV Truck interior features include a panoramic sunroof design consisting of four removable glass panels and a 13.4-inch touchscreen display. When drivers would like to take off the roof panels of their Hummer EV Truck models, they can easily store the panels in the front trunk of the truck.
The exterior of the new Hummer EV truck features a spacious 1.5-metre cargo bed and four large doors for occupants to get in and out comfortably. We provide an extensive used inventory as well to fit every budget for all our customers from Clinton, Bridge Lake, Buffalo Creek, and Canim Lake, BC.
Come Into Gustafsons Central GM
Contact us for more information about the new 2022 Hummer EV Truck in 100 Mile House, BC. The new Hummer EV Truck is an incredible vehicle with many capabilities for you to enjoy.
Make an Inquiry
* Indicates a required field