2023 Chevrolet Trailblazer in 100 Mile House, BC

The 2023 Chevrolet Trailblazer in 100 Mile House, BC
The 2023 Chevrolet Trailblazer is an all-new, five-passenger crossover SUV. It boasts an impressive powertrain and an automatic transmission, offering a smooth ride and plenty of power. The interior has been completely redesigned for comfort, convenience, and luxury. If you're looking for a stylish, capable crossover SUV, visit Gustafson's Central Chevrolet in 100 Mile House, BC. Browse our new inventory to view our latest units and select one that resonates with your needs.
Performance
This new model features two sets of powertrains. The lower trims, LS and LT, have a turbocharged 1.2-litre three-cylinder engine making 137 horsepower and 162 lb-ft of torque. The two upper trims, Activ and RS, feature a 1.3- litre three-cylinder engine pumping out 155 horsepower and 174 lb-ft of torque. The transmission is CVT for the front-wheel drive and nine-speed for the all-wheel drive models.
Interior
The 2023 Chevrolet Trailblazer provides maximum comfort and convenience for drivers and passengers. The interior of the Trailblazer features premium materials such as leather-wrapped seating, soft-touch plastics, and custom stitched accents that create a luxurious cabin experience. The cabin design boasts intuitive controls, making accessing all Trailblazer's features easy.
2023 Chevrolet Trailblazer Exterior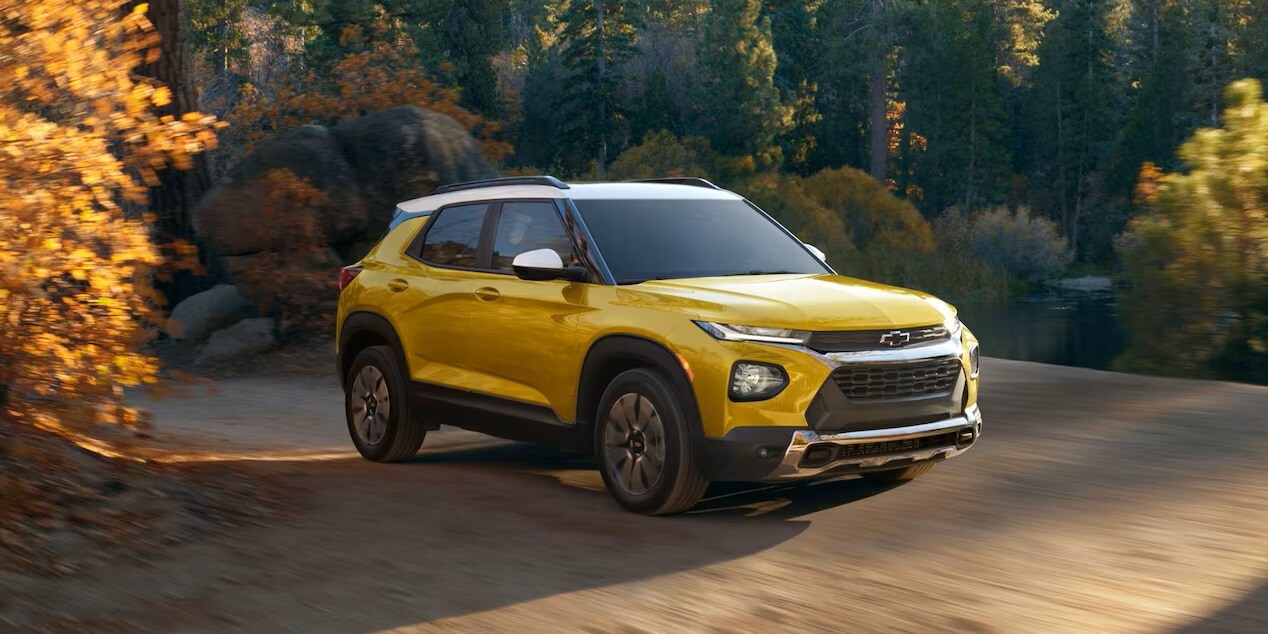 2023 Chevrolet Trailblazer Interior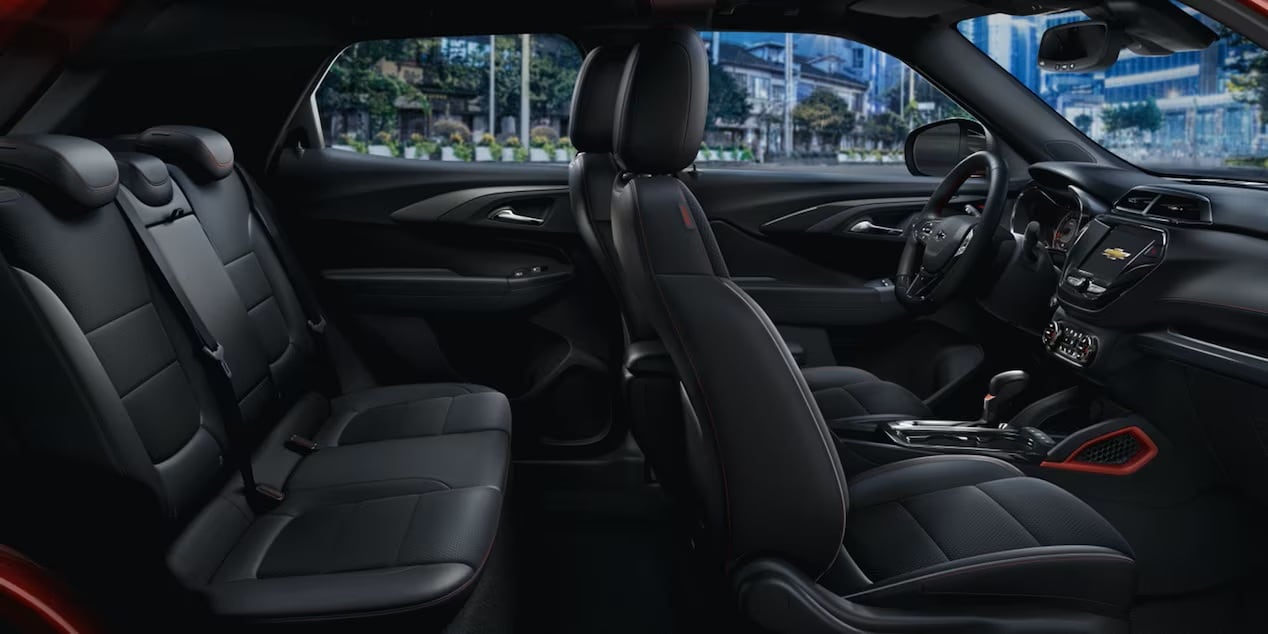 Technology
The 7.0-inch touchscreen infotainment system comes standard, and there's an optional 8.0-inch screen. The system lets you connect your smartphone with Apple CarPlay and Android Auto. The units have a Technology package allowing wireless connections and Sirius XM satellite radio. The standard audio system is a four-speaker stereo on the base trim and a six-speaker system or seven-speaker premium Bose stereo for higher trims. The 2023 Chevrolet Trailblazer offers the added convenience of Alexa integration. Drivers can access Alexa while on the go, ask questions, control music playback, and check weather forecasts. The intuitive voice-activated system ensures drivers keep their eyes on the road while accessing helpful information.
Safety
The 2023 Chevrolet Trailblazer offers an array of driver-assist technologies for the latest safety features. Lane Keep Assist detects road edges, provides steering correction to keep you in your lane, and even alerts you if you drift out of your lane while driving. Automatic Emergency Braking detects when a front-end collision is imminent and immediately applies the brakes to avoid or minimize impact. Adaptive Cruise Control adjusts your speed to keep a safe distance from other vehicles. You can also use the Rear Cross-Traffic Alert system, which provides an audible warning when it detects an approaching vehicle from either side while reversing.
Contact Us to Purchase
The 2023 Chevrolet Trailblazer combines style, comfort, and advanced safety features to provide an enjoyable driving experience. With the intuitive interior design, the added convenience of Alexa integration, and an array of driver-assist technologies, the 2023 Chevrolet Trailblazer will be safe and comfortable. At Gustafson's Central Chevrolet in 100 Mile House, BC, customers can find a great selection of quality 2023 Chevrolet Trailblazer vehicles for sale. Our friendly and knowledgeable staff will assist you with financing options like leasing or loans. Contact us today, and let us help you get into the Chevrolet Trailblazer of your dreams.
Contact Us For Trailblazer!
* Indicates a required field